855-808-5120
Our Mission
AffinityOne aims to supply modern accommodations where you feel relaxed while undergoing addiction treatment. We know you'll be able to optimize treatment if you have a nurturing atmosphere to return to every night. Our objective is to supply a safe, stress-free place to live away from triggers and trauma so you may concentrate on your recovery. We believe that every person who reaches out to us should be heard so they can secure the precise help they need.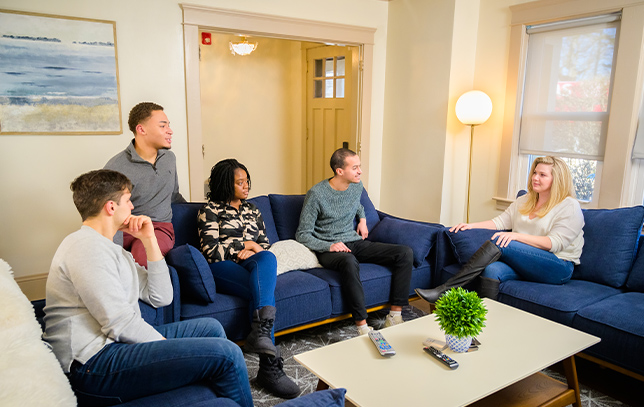 Why Stay With AffinityOne?
When you recover from alcohol or drug use, you may feel vulnerable to the cravings and peer pressure that might lead to relapse. AffinityOne is your shelter from outside influences and distractions that cause substance use. We are a substance-free environment where you may stay while maintaining your focus on addiction treatment. Our living facilities are right next door to our partner facility, The Counseling Center, where you'll get expert addiction treatment every day. You'll then spend your free time and evenings at AffinityOne reinforcing the coping skills you develop in therapy without being impacted by outside forces. This additional support helps you avoid relapse and progress further in your substance use recovery.
We do everything we can to make you comfortable at AffinityOne. We have:
Completely furnished semi-private bedrooms with your own bathroom and television
Community spaces for watching television, playing games, and meeting new friends
Contemporary decor
Three chef-made meals per day and 24-hour access to beverages and snacks
Outside break areas
A fully equipped exercise area
Organized recreational activities and off-site excursions
On-location laundry facilities
Sympathetic staff to accommodate your specific needs
About Praesum
AffinityOne is an integral part of the Praesum Healthcare network. Since 2004, we have aspired to provide only the highest quality treatment for communities along the East Coast. Through all our facilities, Praesum now assists thousands of individuals each year with a range of evidence-based behavioral health services designed to help those in our care overcome substance use.
All of our operations stem from the belief that everyone deserves personalized care that suits their needs. We know you have your best chance of building the life you want when nurturing healthcare professionals treat you with respect. Today, Praesum operates dozens of substance use treatment centers offering different levels of support to meet you where you are on your road to recovery.
Discover Our Continuum of Care
Residing at AffinityOne during partial hospitalization is just one stage of your drug or alcohol recovery. For additional treatment requirements, Praesum has healthcare facilities that are able to help -- whether you're only beginning to strive toward a sober life or have been sober for a while but would like mental health support and medication assisted treatment. No matter what your next step is, we are ready to help you move toward your recovery goals and help you get healthy again with our range of substance use services:
Get Help For Substance Use Today
If you need somewhere safe to live during partial hospitalization, we can help you now. Call 855-808-5120 or fill out our form to talk to a member of our team immediately. We respond 24/7, regardless of the time. Get help today.