855-808-5120
A Safe, Comfortable, And Empathetic Facility During Your PHP Program
Many people know that a sober, structured place to stay helps them escape the obstacles of substance use when undergoing in a Partial Hospitalization Program (PHP). At AffinityOne, we take care of your living accommodations so you can concentrate on your substance use treatment. Our modern center has fully-furnished bedrooms, chef-prepared meals, entertaining recreational activities, and attentive on-site staff. We're also situated next door to our partner, The Counseling Center, a respected substance treatment facility. AffinityOne is the comforting place to come to when you need to focus on you and your recovery.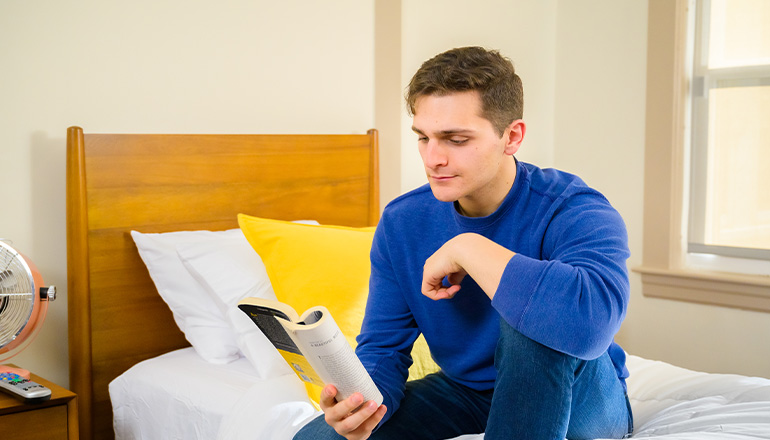 Stay In Our Modern Facility
When you're in PHP, you get a greater chance to create a foundation for your sobriety as you are away from the distractions of daily life. AffinityOne brings you an empathetic space to stay while you work on your alcohol and drug use recovery. We help you feel comfortable, starting with cozy bedrooms and contemporary amenities. Each bedroom has an attached bath and television. You'll share your room with a roommate, and we can arrange a private room upon request.
Resources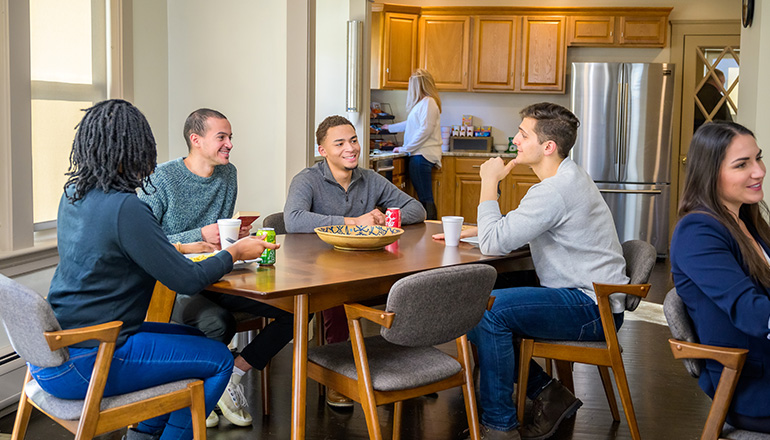 Create A Pillar Of Healthy Skills With AffinityOne
Healthy skills are needed for handling your substance use. AffinityOne can help support your wellbeing with wholesome food and physical activity. Our chef cooks all of your meals with care and attention to fresh ingredients and nutrition. You'll get meals in the shared dining area and have unlimited access to beverages and snacks in between meals. And we're always happy to accommodate allergies or other dietary needs.
You'll also get ample opportunity to exercise as well. You'll have time to use our full-service gym to begin or keep up an exercise program. We have equipment and space for popular activities to suit your activity level.
View Our FAQs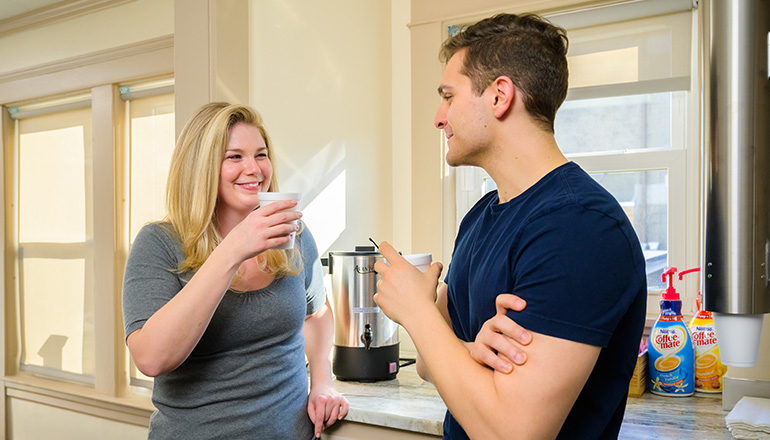 Enjoy Positive Activities With Other Residents
A successful recovery typically happens with the fellowship and support from peers. When you come back to AffinityOne after a day of treatment, you are encouraged to join fellow residents in any activity we provide. Watch a movie or hang out in our resident lounge. Enjoy some sunshine on our patio or outside areas. Or take part in group activities like nature hikes, beach trips, movie nights, and art therapy.
Find Support From Your Loved Ones While In Sober Living
While AffinityOne gives you a break from the outside world, we make it easy for you to keep in touch with supportive family members and friends while you're here. If you want to, you can call family or close friends every night, and we host open visitor hours on Saturdays. We know that your chances for a long-lasting recovery increase when you have loved ones by your side.
Rely On Our Compassionate Staff For All Your Needs
One of the benefits of living in a sober living facility during your PHP, is relying on our on-site staff 24/7. We'll see that you always have someone to go to when you want something. From the moment you first call us, your needs come first. During your stay we will:
Help completing insurance and employer requirements
Set up transportation when needed
Provide emotional support
Provide answers about your therapy sessions or recovery
Help distribute meds
Cook and serve daily meals
Show a uplifting, compassionate environment
We appreciate that you're putting in the work to overcome substance use, and AffinityOne wants to make your day as stress-free as possible for you.
Get Help For Drug And Alcohol Use Recovery
You don't have to go through recovery by yourself. If you need a sober living environment that goes with the therapy at your addiction treatment facility, contact us at 855-808-5120 or send in the form below. We reply 24/7. Help is available now.